What is TAT?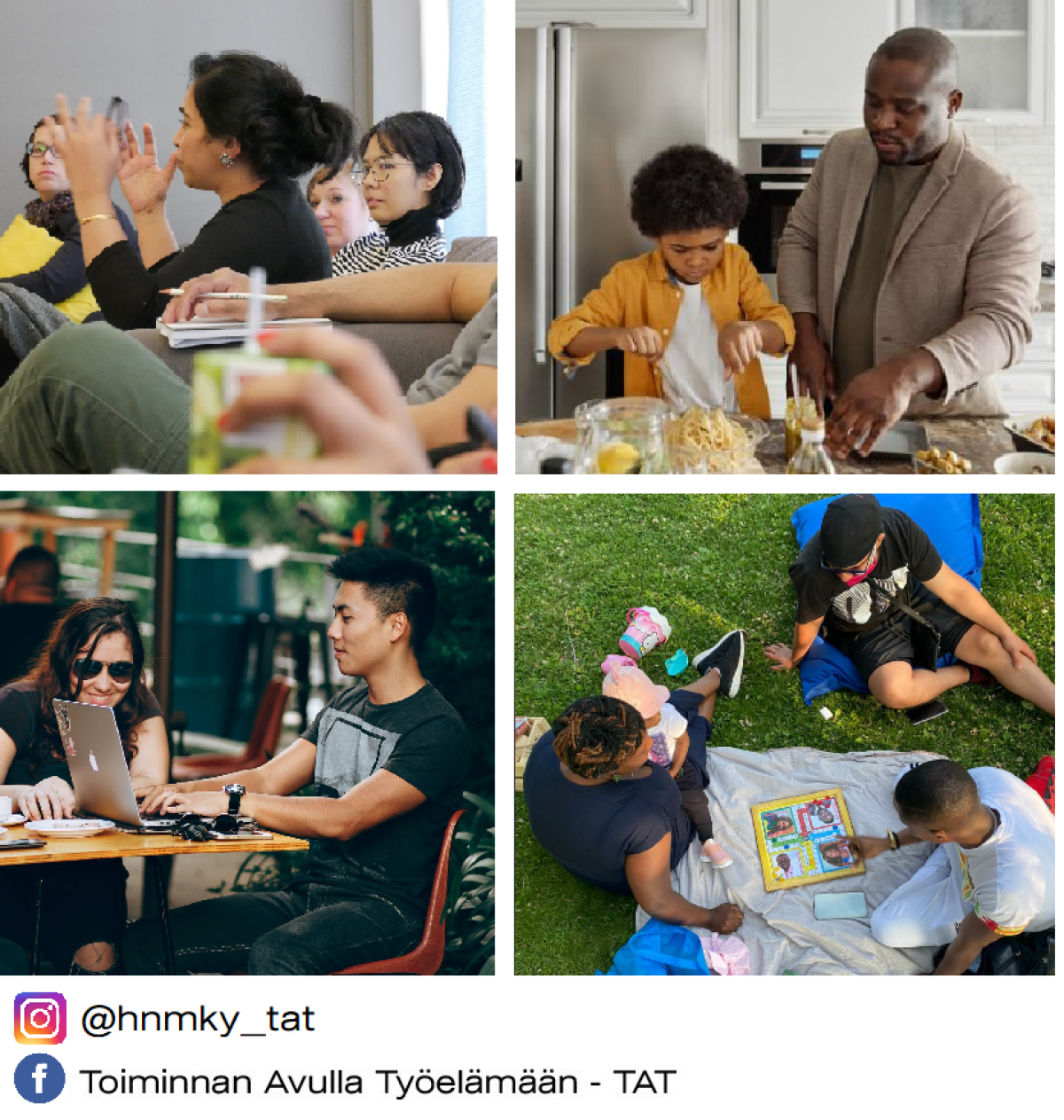 Toiminnan Avulla Työelämään (TAT) is a project dedicated to enhancing the wellbeing and work-life skills of young adults with an immigrant background. We are funded by the Funding Center for Social Welfare and Health Organizations (STEA).
The TAT project encompasses many activities, including:
Sports groups and other leisure activities

Finnish language groups

Groups and training related to job search and work-life skills

Activities for families and parents

Individual guidance and advice
All our activities are free of charge (0€).
We speak Finnish, English and French.
How do I join?
Joining our activities is easy! You can simply show up anytime, we don't require registration or signing up for most activities. You can check out our schedule below to see where and when our groups are taking place.
You can also call us or send us a message via WhatsApp, Facebook or Instagram.
Activities and schedule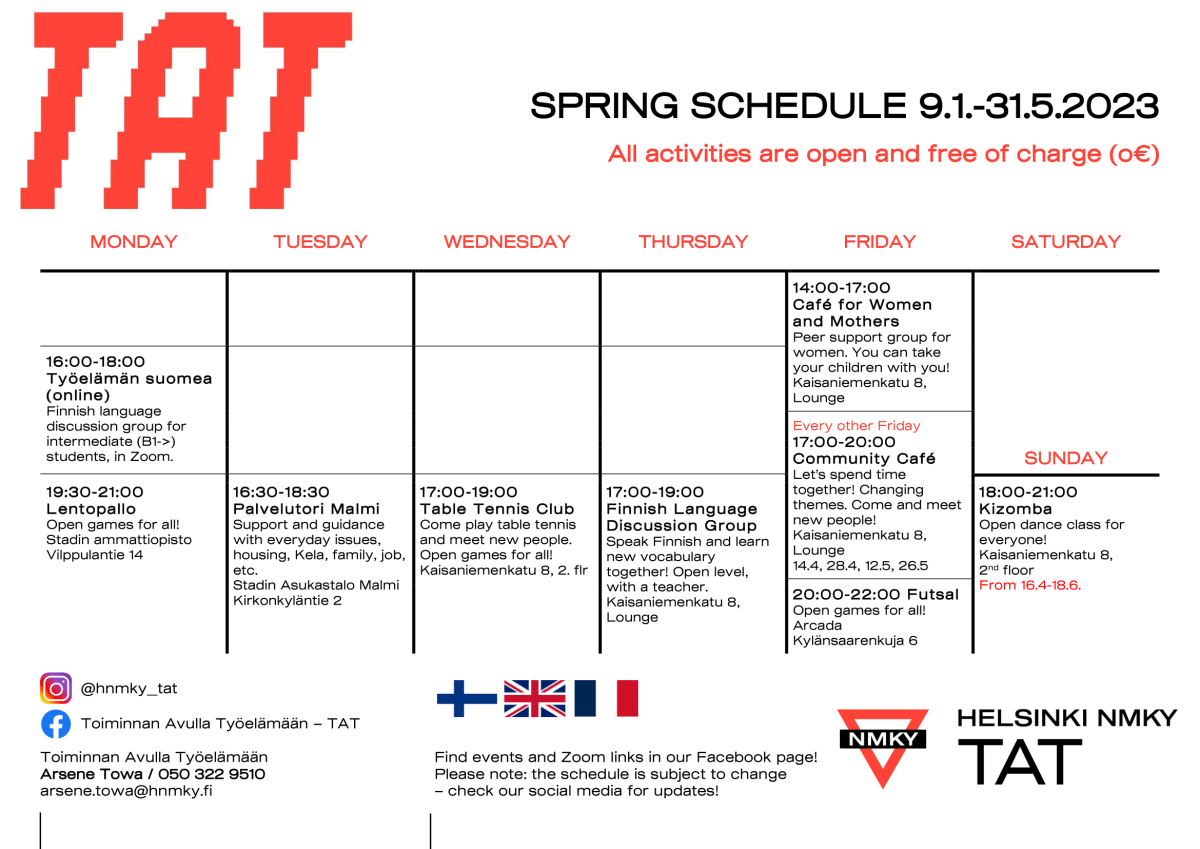 Check the most current situation in our FB page!
Sports for everyone
TAT organizes various sports groups where everybody is welcome. Come play ball games (e.g. futsal, volleyball) with us, learn to dance (kizomba!) or keep fit with professional instruction.
Sports for women
TAT organizes women's sports groups as well. In these groups we dance, stretch, and learn to take care of our bodies. You are welcome to attend even if you have no previous experience – we provide advice and guidance wherever needed. Childcare can be arranged for some groups! Please contact us if you are interested in joining a women's sports group.
Finnish Language groups
In our Finnish language groups, you get to practice Finnish in a friendly and relaxed environment. We have a group for beginners: entry-level learners are welcome. You don't need any specific books to attend, our teachers will give you all the necessary materials. In our intermediate learners' group, we have a particular focus on vocabulary related to working life and job search.
Social events
TAT Community Café is a pleasant environment to encounter new people and spend time enjoying different leisure activities. Together with our volunteers we organize Social Kitchen Dinner parties, where the community gathers together to eat and have a good time.
Support with job search and other everyday issues
Are you currently looking for a job? Do you need support with finding an apartment, Kela matters or other everyday issues? TAT organizes groups and training sessions to develop your work-life skills. In addition, we offer individual guidance: you can come and visit our Palvelutori services, or book a session with our instructors:
Arsene Towa (Finnish, English, French), 050 3229510 / arsene.towa@hnmky.fi
Jaana Takalo (Finnish, English), 050 3654682 / jaana.takalo@hnmky.fi
We also organize courses and workshops. Read more below (Courses and training). You can also find more information about the training we offer on our social media channels.
Courses and training
This winter TAT has organized a YKi course
The course is aimed for intermediate students who are planning to apply for Finnish citizenship or need a certificate of language skills for job search. This free course consists of 10 sessions between 5.11.2022-21.1.2023 on Saturdays (excluding Christmas and New Year). It was very popular and got full in less than one day.
We have other trainings coming as well:
Swimming class 2/2023
Hygiene Pass 2/2023
Security Steward training 3/2023
Referee class 4/2023
Follow our social media for more info.
Let us know if you would be interested in certain trainings or would like to cooperate with us to offer a training!
TAT International Cup
TAT International Cup is an annual football tournament, all about diversity and participation! Upscale playing, good music and relaxed atmosphere gather a large group of people together every summer. The teams are formed by communities of people with immigrant, expat or otherwise international background. The rules and principles of the tournament are created together with the communities. International Cup wants to enhance good relations and cross borders within different populations and develop sense of community with the common language of football!
In 2022 the tournament attracted over 5000 spectators in total. Every year the tournament offers a variety of work and training possibilities for the participants. This year we are training security stewards and referees. The tournament offers activities for families and children as well on most days.
This summer 2023 International Cup has 16 community teams! The event is organized in Kallio, Brahenkenttä (Helsinginkatu 25a) from 28.6-9.7, 17.-18.7, 20.7 and 22.7. Please note! July 9th we play in Töölö, Urheilukatu 5. Games are played between 16-20. Welcome to watch the games and enjoy the atmosphere! This year we offer also a free football school for kids: you can just come and join:
Thursday 29.6, Friday 30.6, Saturday 1.7., Monday 3.7., Thursday 6.7 ja Thursday 20.7.
From 17-18 (5pm-6pm) for 6-9 years old
From 19-20 (7pm-8pm) for 10-14 years old
The event is organized together with the communities, volunteers and other organizations. As a volunteer you can be involved in first aid, kids and family activities, social media or game commission.
More information and photos can be found from the tournament's Facebook page: https://www.facebook.com/hnmky.tat.internationalcup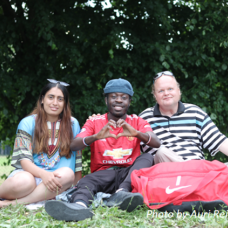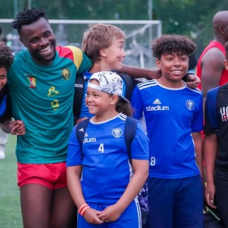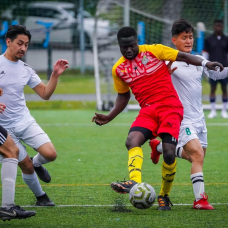 Let's cooperate!
TAT works together with numerous different organizations and networks. We complement the services of the public sector, for example employment and social services. Other important partners of ours include a wide range of educational establishments from vocational education to universities: we offer activities, internships, and project collaboration opportunities. We also work with many different multicultural organizations and associations by arranging joint services, events, workshops, and training sessions. We are always happy to consider new opportunities for collaboration!
Come and host your own group!
If you have any useful skills you would like to teach to others, knowledge to share, or an idea about a hobby group, then don't hesitate to contact us! We may be able to offer facilities and resources to groups that align with TAT values.
Join us as a trainee!
If you are a student of social services or youth work in an Applied University, come and complete your practical training with us! You have the chance to learn intercultural client work, instructing groups and individuals and organizing events, to mention just a few possibilities. We do not require any Finnish language ability but will provide you with a wonderful opportunity to practice your language skills!
Professional collaboration?
Do you share an interest or goal with us? Feel free to invite us to talk about our valuable work in a training session, seminar, or any other event! We are happy to collaborate and work together with other projects and initiatives.
Support our work
We welcome all kinds of support from the private sector as well. We are always happy to discuss sponsorship for our events or training.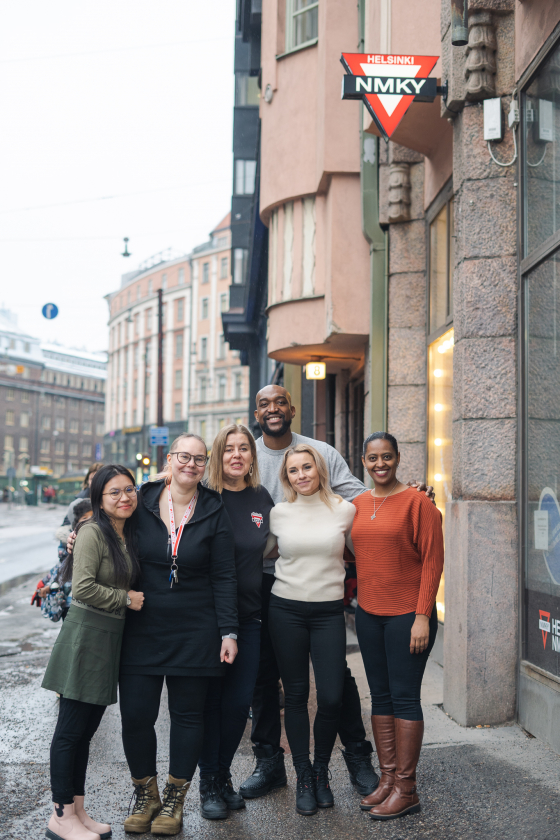 Sign up for our newsletter!
TAT Newsletter comes out a few times a year. We will tell you the latest news, present activities and inform you about training opportunities and events. You can unsubscribe at any time: link to unsubscribing can be found in the end of each newsletter. We will not send you any other messages!