Children need a familiar environment, safe adults and meaningful things to do in the afternoons. For this reason, Helsinki YMCA organises afternoon physical activities for first and second grade school children in a secure environment in 11 different offices in the immediate vicinity of the school site. Around 650 children are involved in the activity every day. We operate in facilities with regular use of the gym and good outdoor areas.
In the club, children make friends and have a safe place to hang out, and there is always a knowledgeable adult directing the activities. While there, the child plays, moves, gets to go outdoors, becomes acquainted with different sports, does his or her homework and is given a snack. During the afternoon, children also have the opportunity to rest and do their own thing in the presence of an instructor.
The afternoon club operates every school day from 12 p.m. to 5 p.m.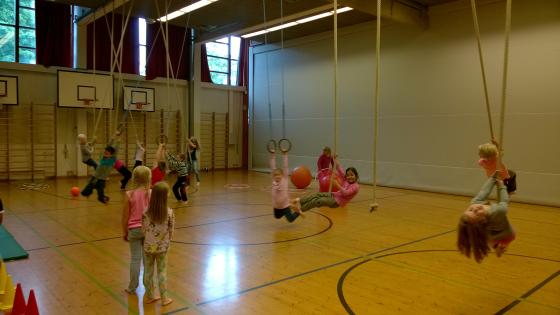 APPLYING TO THE CLUB
Applying to the activities in 2021–2022
Children are selected for the afternoon activities for one school year at a time. Due to the coronavirus situation, the application forms cannot be returned to the groups, instead the application is completed using an electronic form.
The application period for the 2021–2022 school year is from March 22 to April 23, 2021
At the same time as school entrants, future second graders and special needs students can also apply for the activities.
The updated application instructions and the electronic application form can be found in Finnish on the website of the City of Helsinki page.
The application period for the 2022–23 school year is from 21 March to 22 April 2022.

Customer fees vary depending on the selected activity time:
Contract for 12 p.m. to 5 p.m.: €120 per month
Contract for 12 p.m. to 4 p.m.: €100 per month
The level of the customer fee is determined by the Board of Education, and they are the same for all after-school clubs. The activity time of the after-school club can be changed once during the school year and should be done officially by email to the after-school club email. Changes will not be made retroactively. You can apply for a payment reduction for the after-school club fees using the form found on the website of the City of Helsinki. If you wish to apply for a payment reduction, please also report it to the Helsinki YMCA billing at ip.laskutus@hnmky.fi.