STARTTI
LOW THRESHOLD STARTTI COACHING FOR YOUNG PEOPLE UNDER 29
It would be nice to have a place to visit every day, get a little routine for your everyday life and get better prepared for the next thing. There would be people who would help with these endless questions and you could move forward, at least a little.
Well, now there is such a place! You are welcome to join Startti periods just as you are.
In a period of about 2–3 months, you will learn how to manage everyday life, put a rhythm to life, and learn about various services and forms of support that make your own life easier.
Please visit the Helsinki YMCA Lounge at Kaisaniemenkatu 8 to explore the activities.
You can either come alone or with a friend. The next open house is on: 17 October, 2022 at 14:30-15:30 and 31 October, 2022 at 14:30-15:30.
For details on start times, registration, etc., contact the STARTTI coaches: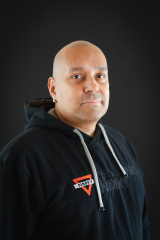 Sports Outreach Youth Worker and Instructor in Charge
YOUTH, PHYSICAL EDUCATION AND WELLNESS WORKSHOP
Through the Helsinki YMCA workshop in the youth, physical education and wellbeing sectors, young people under the age of 29 have the opportunity to learn and gain experience in those fields. The workshop supports the youth holistically. The workshop period consists of individual, work and group coaching. The duration and content of the workshop period vary depending on individual objectives. The workshop may support in applying for education and employment or, for example, completing an unfinished degree.
The region of the workshop is the metropolitan area. The workshop is a so-called wall-free workshop that operates in several different locations according to the needs of the trainees. The jobs are located in Helsinki YMCA or its partner organisations. The activities of the workshop are funded by the Ministry of Education and Culture.
Workshops' instructors are Ville Ahonen (responsible) and Iisa Karsten.