Pelli Camp Centre
Härjanvatsantie 210
09120 Karjalohja
Pelli Camp Center, owned by the Helsinki YMCA, has been a campsite for thousands of children and young people since the 1960s. Helsinki YMCA organizes numerous youth camps, confirmation school camps, father-children camps in Pelli every year. At other times, the camp centre can also be rented by other parties.

Valokuvat: © Pekka Heikkilä ja HNMKY:n arkisto
INQUIRIES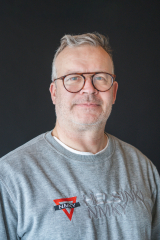 Development Manager (Group and meeting place activities)
The basic daily rate includes breakfast, lunch, dinner and dinner, accommodation in a 4-bed room with your own linen (sheet, pillowcase and sleeping bag) and use of the facilities and sauna.
After agreeing on the time of the camp, it's recommended to contact the person in charge of the camp's food service well in time and report possible allergies, special diets and the exact number of participants.
Inquiries about food services (eg special diets, allergies, etc.):